Franchising Your Business
The Franchising Decision
Why might you consider franchising your business? Here are the big reasons:
Transforming a business to a Franchise System is the fastest, most efficient , and, in most cases, the most cost-effective business growth strategies.
Many successful business owners investigate Franchising for these reasons:
Franchising entails a far lower capital investment than opening company units or territories
Franchisees provide most of the growth capital through Franchise Fees and Royalty Fees
The Franchisee has a vested interest in making the business work and will generally be much more motivated than hired management
Many units can be opened in a short time, boosting brand name power
Request More Franchise Information
We will use any information you give us only to process your request. We will not sell, share or distribute this information to third parties and will always respect your privacy.
What does it take to succeed as a Franchisor?
Before you commit time and money to this project, first consider carefully the following in evaluating your business:
Your business should have at least one unit or territory operating successfully and profitably, but it is preferable that your business has three or four units, or coverage of a substantial population or territory.
You should have a registerable mark for your business. If you sell products, you must register a trademark; if you sell services, you register a service mark. This is a vital requirement since your goal is to have an identifiable brand.
The business should have long-term market potential. Businesses that capitalize on fads are not good candidates because the product or service may not be in demand in a few years. Businesses which are unique in some way lend themselves well to the franchising business growth strategies.
The operation of the business must be teachable. In many franchises the franchisee has no prior knowledge of the business. The smallest details of operating the business must be taught to the franchisee so that he/she can be successful. Some businesses are not transferable to others because much of the decision making and day-to-day operations emanate from an owner who has honed certain skills over many years and has certain talents which cannot be taught.
The business owner should be sufficiently capitalized so as not to cut corners on the legal and consulting expense necessary to properly register the franchise and to formulate strategy. Also, the franchisor is responsible for the formulation and implementation of a training program and must provide a comprehensive manual for franchisee use. Lastly, the franchisor should have employees on staff to administer to franchisee needs. This may entail additional hiring of personnel.
What are the procedures to franchise a business?
At PureFranchise, we utilize a number of franchise professionals to provide the necessary strategic, legal, financial, marketing and administrative know-how to make the process as fast, stress-free, and as cost competitive as possible.
If you are interested in these business growth strategies and discussing the steps to franchising your business please fill out the form below:
Take advantage of this free service to decide on your next move. Make an informed decision!
Consultations can be scheduled Tuesday, Wednesday, Thursday from 10am-6pm (EST); Please indicate a favored time above.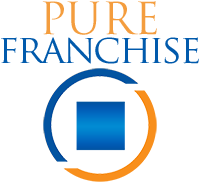 ABOUT PUREFRANCHISE.COM
Information, advice, and news about the world of franchising.
info@purefranchise.com
203-542-0778